"If the key to being visionary is to see things that others can't, then Cocteau Twins certainly understood the assignment."
Introduction
I.
The former members of Cocteau Twins have by now each been on their own for longer than the prolific sixteen years they were together as a band. They went from being scrappy teenage runaways from small-town Scotland to heavy rotation on the BBC's coveted John Peel Show in mere months. Within a few years they were among the most beloved post-punk indie bands in the UK, with a growing international following and a music press that couldn't quite find the words, and really never did. The twist was they could barely pin it down themselves, much to the frustration of just about every journalist who tried to interview them. They never claimed to be waiting for "the muse" to inspire them, and disavowed any idea of a grand design, concept, or intention behind their music. Questions of "relevance" seemed lost on them. Relevance, as far as Cocteau Twins' music goes, is truly in the ear of the beholder: It's what the listener makes of it, whatever the time or place. In most ways, their music remains unmoored from such things—as if they'd lived sealed off from the rest of the world, sending out the occasional musical missive. They existed in a category by themselves—one they created.
Others have tried to reproduce or capture the Cocteau sound, with limited success. The few artists who have succeeded sound mostly unlike them, but have managed to convey an essence: inspiration without imitation (think Beach House, Goldfrapp, Sigur Rós, or even M83). Cocteau Twins were a foundational influence for whole categories of music, notably dream-pop and shoegaze—forms that have themselves found new 21st-century audiences. Given their association with 4AD's early crop of bands like The Birthday Party and Bauhaus (and the comparisons to Siouxsie & the Banshees), they also became and continue to be a staple of goth, though they mostly eschewed goth's trappings.
Years later, in a world exploding with musical creativity, output, and listening sources, the Cocteaus' music brings its own kind of relevance—again, if that means anything anymore—as they are rediscovered by people yearning for something seminal or transcendent. (The song "Pearly-Dewdrops' Drops" played an important role in the novel and young adult film, "The Perks of Being a Wallflower," as recently as 2012; in 2020 Heaven or Las Vegas was ranked among the most important albums of all time by more than one media outlet.) It is a testament to the timelessness of their sound and production quality that many new fans don't even know that the story actually started in 1979, or that the trio formerly known as Cocteau Twins long ago moved on to new endeavours. Even now, younger fans enquire regularly about "the next album" or "upcoming live shows."
II.
Like many groups formed in the early 1980s post-punk wave, their beginnings were humble: Elizabeth Fraser, Robin Guthrie, and Will Heggie—the original lineup—were young, shy, self-effacing, awkward, taciturn, frequently profane and circumspect working class teens who, like fellow Scots The Jesus and Mary Chain, to whom they would be occasionally compared, had little else to do but have a go at making music, despite, or perhaps because of, their lack of musical training. Boredom, after all, can be a great motivator. Though they may have had some inkling—Robin and Will had played in other bands before forming Cocteau Twins, so they weren't completely inexperienced—few others could have anticipated the rich vein of expression they would mine in the years following their debut, when they burst onto the British independent music scene fully formed, a kind of self-possessed singularity.
From the start, their music defied description (but not comparison). There was more than a hint of things to come, as Helen FitzGerald surely saw in her generous 1982 piece on Garlands for Sounds magazine: "Where have these creatures sprung from, what dastardly corporate skulduggery can explain their unannounced and almost unprecedented leap to the forefront of our attention? Well, for once, bribery, corruption and deceit are blameless. The fact of the matter is that the album is bloody good, a fluid frieze of wispy images made all the more haunting by Elizabeth's distilled vocal maturity, fluctuating from a brittle fragility to a voluble dexterity with full range and power."
Despite some critical, occasionally mean-spirited, opinions from a few music journalists predicting that they would soon fade into obscurity—nothing more than a poor imitation of the great Siouxsie and the Banshees, some said—Cocteau Twins proved resilient and difficult to dismiss (even when reviews of their music in the UK press tended to be thoughtless and opportunistic hit-jobs). The passing reference to Siouxsie & Co., flattering given that band's formidable reputation, ultimately amounted to throat-clearing.
Having been snapped up by the upstart independent label 4AD—which was becoming known for its artistic, experimental moodiness and acts like Bauhaus, The Birthday Party, Rema-Rema, and Modern English, all slightly to the left of the emerging scene—the trio were creating something words failed to convey.
III.
Within eighteen months, having shifted their base to London, and temporarily down to a duo of Fraser and Guthrie following Heggie's departure, they were being lauded breathlessly by at least half the music press desperate to articulate what it was they were hearing, and usually falling short or, in some cases, giving over to spasms of euphoric hyperbole or plain rage. This wasn't always their fault. Cocteau Twins were reclusive—or at least seemed to be—and almost impossible to interview in a traditional sense. Being Scots, expressions of pride or entitlement would have been out of character. They were routinely asked what it was that made their music so special, what vision drove their songwriting, and were never able to provide a satisfactory answer. They seemed downright indignant that such a question needed to be asked. Responses to such enquiries in their early years were often met with muffled non-sequiturs, inaudible whispers, uncomfortable laughs, and Scottish expressions like, "I dinna ken." They left fans, radio programmers, and the music press to try to make something of the vague album sleeves, enigmatic song titles, impenetrable lyrics—the whole of it—and sort it out for ourselves. To their more sceptical critics this signalled a kind of disingenuousness or fraudulence, though most people were content with or without an explanation.
Some time later, in one of the few straightforward descriptions of what it might have been Cocteau Twins were trying to do, Guthrie reflected, "the aim was to make music with punk's energy but more finesse and beauty, and that shiny, Phil Spector sound. I was trying to make my guitar sound like I could play it, so I was influenced by guitarists who made beautiful noise, like The Pop Group or Rowland S. Howard." To Billboard magazine in 1993, he put it somewhat differently, saying, "In a way, our music has always been a reflection of our desperate desire to get as much distance from where we came from as possible. Grangemouth is like Elizabeth, New Jersey: a great chemical-refining works that's not at all picturesque."
One might argue they were greater than the sum of their parts, with the music a sort of alchemical byproduct of their working style and complicated, even dysfunctional relationships. Their distinctive sound "flowed from the chemistry between us," Elizabeth said, a flow that only increased and improved with the addition of Englishman Simon Raymonde, formerly of Drowning Craze, to the group in late 1983.
Raymonde brought not only sufficient punk sensibility to fill Heggie's vacancy (Heggie went on to co-found another beloved Scottish band, Lowlife), but a new range of musicianship and songwriting skill. Indeed it was Simon who, in 1985, said, "I don't really think of us as songwriters. In the traditional sense, they're not songs at all. Songwriters, to me, mean people who sit down with an acoustic guitar and piano, methodically working out the right chords, what words go with these chords, fitting it all in. We don't work like that. It's usually, turn the tape recorder on and hopefully, in ten minutes, we have something. Then Liz will come down, listen and sing. It's not like songwriting, it's music." Neither Raymonde nor Guthrie ever varied from this description of their process. Only in the years just before their breakup did this pattern change at all, with Elizabeth contributing more to the instrumentation, and the three working out songs together in real time.
IV.
The more music Cocteau Twins made, the less comparable they became to anything, or anyone, else. They were becoming their own branch on the musical family tree. Influential bands like the Banshees or Sex Pistols were moving in different directions by 1983 (with John Lydon's band Public Image Limited picking up where the Pistols had left off). Even groups like fellow Scots Simple Minds, whose song "No Cure"—written when the band were known more colorfully as Johnny and the Self-Abusers—had given the Cocteaus their own band name, were becoming more mainstream.
Were bands like Cocteau Twins a new kind of punk standard-bearer, carrying forward the ethic if not exactly the sound? Was this an ironic twist, where the inexplicable, indecipherable, rule-breaking music of Cocteau Twins was—despite its elegant packaging—the anarchy punk demanded? Punk's iconoclasm hadn't exactly wrecked the establishment. Capitalism, as always, picked up the most marketable bits and repackaged them for mainstream consumption on upstart taste-makers like MTV. At the same time, innovation and experimentation in music had exploded. This was helped along with new, more accessible technology that allowed musicians to make the music they wanted in ways previously impossible or unaffordable. Independent labels like 4AD, Factory, Creation, Postcard, Mute, and others were there to support these artists working in the margins. Decidedly un-corporate, they were quickly becoming bellwethers of cool. Whatever "punk" was, it had become something else.
Cocteau Twins' youthful enthusiasm and self-confidence in their music proved an asset throughout their early years, despite their disinterest in describing what they were doing or conveying a sense that they even understood it themselves—or cared if anyone else did. Their punk roots would be a key ingredient to their success as they defied all fashion, confounded the music press, and enchanted their loyal following in a career that was, it's fair to say, enviable, if occasionally self-sabotaged.
Such instincts could also, depending on one's perspective, be a poison pill holding them back from bigger rewards. When early mainstream success had come calling in the form of the UK music television powerhouse "Top of the Pops," after the chart showing of "Pearly-Dewdrops' Drops" (their first Cocteau song to do so, in early 1984) they turned it down—mostly out of fear, but certainly also because the idea of bright lights, balloons, and dancing didn't feel right, either. It was a decision that ruffled feathers at the BBC for years.
In this way, Cocteau Twins, like Jesus and Mary Chain, would appear distinct from their counterparts of the time, such as The Cure, Joy Division (and later New Order), The Smiths, Depeche Mode, Echo and the Bunnymen or Siouxsie & The Banshees—most of whom were on a trajectory for greater visibility and commercial success (and all of whom had been more than happy to be on ToTP). Cocteau Twins would, for at least half their career, remain mostly unknown to mainstream radio, television, or big marquee venues.
In a 1988 interview, Elizabeth articulated their discomfort with it all saying, "Now and then, apparently, we have to justify ourselves to those who think of us as quaint, or mysterious, or too remote. We'd rather excuse ourselves from such business, not because we're over-paranoid or far too precious, but because we're no fucking good at selling ourselves. People can write that our music is a 'heavenly system,' or 'labour in vain,' or 'twee and silly.' Just don't drag us into it. We're not so sentimental about our music that we have to stick with it…. we make it, and then it's over with. We'll do whatever we can to promote it that won't embarrass us and other people."
This perceived ambivalence and aversion to publicity led to a reputation for aloofness that became synonymous with 4AD itself. The band's close relationship with the label faltered slightly—or perhaps went too far—following the watershed release of This Mortal Coil's "Song to the Siren"—Robin and Elizabeth's cult hit cover of Tim Buckley's haunting ballad, in 1983, and eventually the It'll End in Tears LP in 1984—the first cohesive articulation of "the 4AD sound."
The association with This Mortal Coil ultimately distracted from their own work, particularly as their critically praised sophomore LP, Head Over Heels, was fresh off the presses, followed closely by Sunburst and Snowblind and The Spangle Maker (the first release with Raymonde). This left them feeling overlooked and taken for granted in favor of the label's evolving cult status, something Guthrie in particular felt was an unhealthy conflation of a label with its individual artists who didn't see themselves as being alike at all.
V.
With Raymonde on board and their creative energies flowing, the trio set aside these concerns to focus on their next LP. The experience proved to be less than ideal. Though 4AD suggested Brian Eno as producer, the band felt it was time to commit to doing it all themselves without outside influence or help. But pressure from 4AD to release an album that could capitalise on the successes of "Song to the Siren" and "Pearly-Dewdrops' Drops" meant that the recording process was rushed, with Elizabeth in particular experiencing a crisis of confidence in her lyrics. Despite the fraught creative process, Treasure, released in the fall of 1984, opened the floodgates. Melody Maker's Steve Sutherland declared in its wake, "Surely this band is the Voice of God."
While they assumed positions alongside other respected 80s bands, Cocteau Twins—intentionally or not—occupied the less pop-oriented, less commercially accessible end of the spectrum, keeping company with label mates Dead Can Dance, Dif Juz, or The Wolfgang Press. Their music became almost objectively beautiful, even joyful—blissful, sublime, choose your superlative—but it was decidedly not quite radio-friendly pop. They also avoided the traditional rock band profile of glossy photos and lyrics on the record sleeves; interviews continued to be typically rambling, delightfully incoherent, and profanity-laden. There was virtually nothing in the way of concreteness—very little for the public to grasp. There wasn't even a drummer. Cocteau Twins' music wasn't what you danced to at the club; it was what you listened to afterward, in the wee hours, with the lights down low (or off altogether), lost in a cloud of hashish. They developed a reputation for making the music most likely to accompany sex, and occasionally found their records binned under "New Age" in record shops.
Misunderstood and mercurial, they might have become an obscure footnote were it not for their own tenacity and, at least in part, for the guiding hand of Ivo Watts-Russell, co-founder and head of 4AD, who was an early champion, ardent fan, and friend to the band for many years. It was an intense and complicated relationship—the intersection of friendship, business, and money is rarely a happy one—that would steward them from the frosty, jagged terrain of Garlands to the ballads, jigs, and reels of Head Over Heels, the Arcadian splendour of Treasure, and two (technically three) further LPs and eight EPs, finally reaching the shimmering, sunlit heights of Heaven or Las Vegas before it met its sudden and acrimonious end.
VI.
By the time Heaven or Las Vegas debuted in September 1990, the band were in control of most aspects of their work. Following a successful string of records in the mid-1980s, the Cocteaus had signed a major label record contact with Capitol in the US and released a critically-acclaimed LP, Blue Bell Knoll in 1988. The single, "Carolyn's Fingers," went all the way to number two on the US alternative charts. Having not performed live since 1986, they chose not to tour with Blue Bell Knoll either. As for money, they had earned enough to build a new self-sufficient and state-of-the-art studio situated in an idyllic spot on the Thames between Twickenham and Richmond and christened it September Sound. The studio, and Robin's production skills, were very much in demand by 4AD, other labels, and musicians. Liz and Robin had had a child together, and Simon had married. The band were barely in their 30s and life, from the outside, seemed perfect.
Although the trio had been drifting gradually away from 4AD's inner orbit, ceding that space to American acts like Pixies and Throwing Muses, the split—by most accounts painful—came somewhat out of the blue as they embarked on a world tour promoting Heaven or Las Vegas. Their new manager, Raymond Coffer, had not seen eye-to-eye with Ivo, and thought the band could do better. Ivo, who later rued his decision, called Coffer's bluff and let them go in a moment of pique. It didn't stop him from loving Heaven or Las Vegas—their most commercially successful album by far—or the band's body of work, of which he remains proud: "I think it's the best record we ever put out. For all those people who love to think I manipulate and stick my finger in and control, it's a record I had absolutely nothing to do with, zero, and I love that record."
As expected, other labels lined up, eager to woo the them. Fontana eventually won out, and though it lacked the indie cachet of 4AD—a cachet they were quick to point out they'd helped create—it provided a great deal more financial security along with the creative freedom that, for them, was not negotiable.
VII.
The Cocteaus went on to record two more albums while with Fontana—Four-Calendar Café (1993) and Milk & Kisses (1996)—both well-received but ultimately less successful than Heaven or Las Vegas. These were accompanied by an array of singles and EPs and two world tours. By the time Milk & Kisses came along, the internet had become a nascent force in music, opening up new avenues for engagement with their audience. (This website debuted in 1994.) The now older, more experienced Cocteau Twins found themselves awash in media appearances in print, online, and on television, with more exposure than ever before. Though things seemed promising, the relationship with Fontana, which, alas, never quite worked, ended after Milk & Kisses.
In the years that followed, both Guthrie and Raymonde rejected the idea that their music during this time, which some critics saw as too commercially oriented or mainstream, was a reflection of the shift from indie 4AD to a more commercial label. Quite the contrary. Although there were inevitable music industry trends and pressures—recording multiple singles with more b-sides, for example—the actual music was a natural progression of what had come before. "I find it difficult to make a demarcation line between the 4AD stuff and the non-4AD stuff," explained Guthrie, "because that's a label, that's not the band."
True to their indie spirit, they went on to start their own label, Bella Union, as a way to finally assume complete control of their destiny. It was the right move, but one that would prove to have been too little, too late. Bella Union only ever released one Cocteau Twins record, BBC Sessions, in 1999, a collection that pulled together their BBC radio show performances from 1982 through 1996.
VIII.
The arc of Cocteau Twins' story can be beguiling, fascinating, and sometimes frustratingly opaque. Much like Fraser's lauded and debated lyrical style, one feels as though one isn't quite getting the full picture; that no two people hear exactly the same thing.
As it turns out, the outward refinement and perfectionism that evolved as they matured had been concealing a much more familiar rock narrative. Because although journalists and fans alike would typically resort to words like "wispy," "ethereal," "gossamer," "atmospheric," "oceanic," "cinematic," and countless other phrases meant to evoke something cloudy, amorphous, towering, and mysterious—"cathedrals of sound," as one journalist called it—at the heart of the Cocteaus' music was a carefully controlled and channeled tension; something wound tightly, like a coil, expanding and contracting, often ecstatically. The music may not have sounded like unhinged angry punks, but the aggression—even discontent—was there all the same. In late 1983, when asked about punk's impact in their own work, Robin offered, with Elizabeth in agreement, "I think the sentiment's still there, the non-conformism is still there, even though it looks like we're conforming with everything that we're meant to conform with as a band, but the thought's still there."
So many years later, few could have known for certain the extent of the turmoil beneath the music's beautiful layers of melody and soaring soundscapes, and what appeared to have been an ideal career.
In the twilight of their time together as a band, Elizabeth said, "Our music started as an escape from the grayness and emptiness of our town, our past, but now it feels very healing. The kind of music that complements the emotions you're feeling. It's like a friend." But years of unresolved tension, broken and half-repaired relationships, dysfunction and substance addiction had taken their toll, and Cocteau Twins, though resilient, ultimately proved no match for it. Guthrie and Fraser's intimate relationship, which had formed the core of the band from the beginning, had ended in 1993, yet they soldiered on, co-parenting their daughter and trying to make the best of it as bandmates.
While recording their ninth proper LP, which was never completed, Elizabeth—the painfully shy and panic-stricken teenage girl who had become one of the world's most distinctive and beloved singers, and who had been bravely vulnerable about her demons on 1993's Four-Calendar Café—finally made a break from the music and relationships that had to that point defined her adult life. It seemed the lyrics of the song "Evangeline," uncharacteristically plain and crystal clear, had come to pass: "There is no going back / I can't stop feeling now / I am not the same / I'm growing up again / I had to fantasise / Just to survive / I was a famous artist / Everybody took me seriously / Even those who did / Never understood me / I had to fantasise / Just to survive."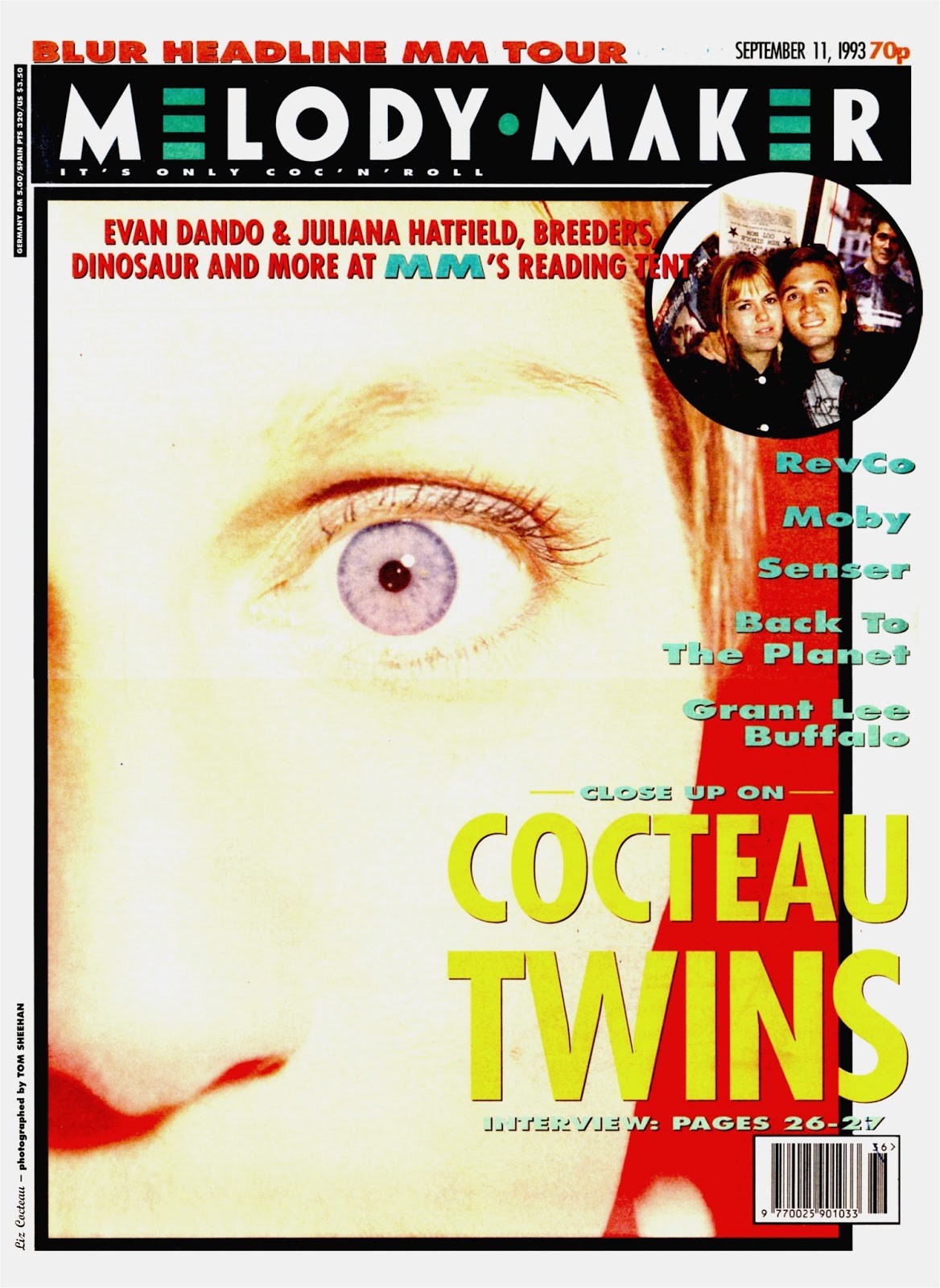 In later years, Liz described her life in Cocteau Twins as having been "an endurance test," and perhaps it was: a frenetic burst of creativity eventually amounting to over 140 songs; marriages, children, divorces; drug addiction and rehab; nervous breakdown and therapy; near-constant scrutiny and speculation. Most of the money they made had been invested back into the music, which meant more music had to be made in order to make more money. They'd gone from being "the Voice of God" to "music you can bonk to," to one of the "three pillars of alternative music" all by the age of 40. At least from Fraser's perspective, there seemed never any time to stop, reflect, and ask oneself if this is what one really wanted to be doing.
IX.
In the end, it couldn't last. The dynamic that had made their music possible—one that, more often than not, depended on the three members barely interacting and yet feeding off one another's creativity—had proven untenable. "I turned to others for some sort of reality check," Fraser said. But "they hadn't even noticed there was a problem. And that was another thing that sent me absolutely round the bend. When you need things measured and it's not happening it can make you feel quite mad."
Though they had tried to reform briefly in 2005 for the Coachella Festival, Fraser was again the one who pulled the plug. "I don't remember it being that much money and in any case that's not the reason," she said. "But people get so fucking carried away. Even though something's staring you in the face, people just cannot see it. I knew it wouldn't happen and it didn't take long to want out."
But Cocteau Twins have had something of a renaissance in a world where punk attitude of the 70s and post-punk 80s is having its own resurgence. This revival includes the popularity of dreampop and what was dubbed in the 90s as "shoegaze." Bands like Lush, Pale Saints, The Sundays, My Bloody Valentine, Slowdive, Ride, Moose, The Veldt, Catherine Wheel, Mazzy Star, Curve, and others, all of whom owed a debt to Cocteau Twins' influence, are cool again. Notably, several have reformed, embarked on world tours, and released new music. (Mark Gardener, of Ride, collaborated with Robin Guthrie on the album Universal Road, released in 2015 on Robin's Soleil Après Minuit label.) Beyond this revival of sorts has been a wave of artists taking Cocteau Twins' sound and shoegaze onward—artists like M83, Goldfrapp, Sigur Rós, Asobi Seksu, Beach House, I Break Horses, Hammock, Blonde Redhead, Alvvays, and The Radio Dept.—some of whom got their start with Bella Union.
The appeal hasn't worn off, and the world seems to be catching up to what Cocteau Twins were on about. First of all, their music has never gone out of print. Besides being widely available on contemporary digital marketplaces, the physical media is still easy to come by in new packaging. Since the early 2000s, 4AD and Fontana have been regularly re-issuing re-mastered LPs on CD and upgraded vinyl, in box sets, and retrospectives that go from modest to more deluxe, including their later material.
X.
If Cocteau Twins were largely invisible when it came to music awards, that too has been remedied in the years following their breakup.
In 2008, Q magazine awarded the group its "Inspiration Award." The three former bandmates appeared together on stage the first time in many years. Robin, characteristically understated, said in his acceptance speech, "So many people tell us all the time that the music we made back then stayed with them, so that's really good. It's lovely to be part of that." Liz followed with a warm thank-you, adding, "This is actually the first thing we've ever won, which is very bizarre!"
Two more distinctions came in 2022: The Ivors and the SAY Awards. The venerable Ivors Academy honoured the band with their "Visionary Award," writing, "If the key to being visionary is to see things that others can't, then Cocteau Twins certainly understood the assignment." The Scots Album of the Year (SAY) Awards—Scotland's answer to the annual Mercury Prize—inaugurated their 'modern Scots classic' album award by recognising Cocteau Twins' sixth LP, 1990's Heaven or Las Vegas. Elizabeth said, "What a delightful surprise. Thank you for expressing such heartfelt affection for Heaven or Las Vegas and for presenting us with an award that we are thrilled and honoured to receive." Simon echoed this, saying, "Even 32 years after its release it seems to keep finding new fans, without the aid of any reunion tours, marketing campaigns or fancy reissues…It is without doubt a great privilege to have been part of this band with two of the most talented Scottish musicians of the last 50 years, for such a big part of my life, and I am still moved by the reaction that Heaven or Las Vegas in particular continues to have. The award is humbling and I am grateful to everyone who chose this over so many other wonderful possibilities."
Well into the 21st century, the iconic Cocteau Twins sound continues to be lauded for its uniqueness and beauty: influencing many and enduring without the aura of nostalgia or kitsch that so often plague other bands from the era. And while the constituent members pursue their solo endeavours and post-Cocteau Twins projects like Robin's Violet Indiana, Simon's Snowbird and Lost Horizons, and Elizabeth's Sun's Signature, the uncanny alchemy of all three together will likely remain elusive and unique. ▣