Artwork for CD edition.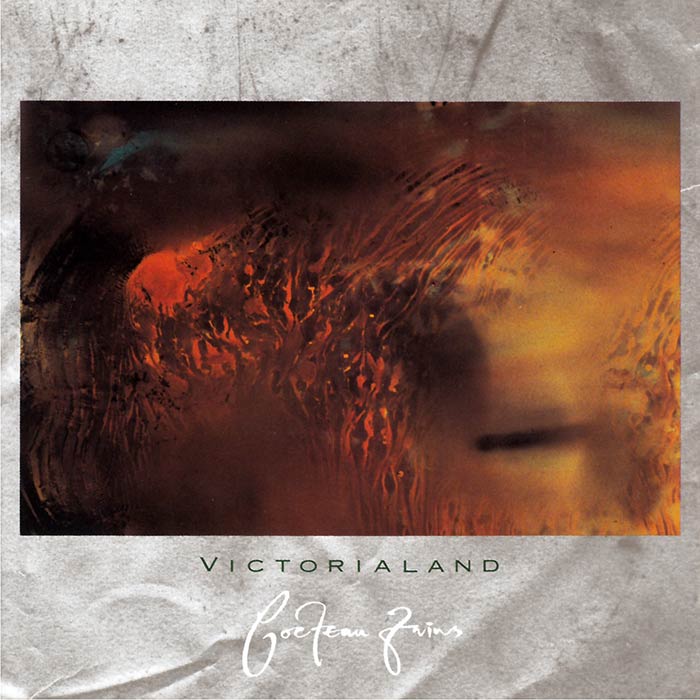 Artwork for the digital remaster re-release (2005).
Artwork from the inner sleeve.
4AD promotional postcard.
Promotional poster by 23 Envelope.
Cover of Melody Maker from 3 May 1986.
4AD promotional photo.
4AD promotional photo.
Elizabeth Fraser.
Robin Guthrie and Elizabeth Fraser.
Robin Guthrie and Elizabeth Fraser.
"Me and Liz decided we were just going to do some tracks with just acoustics and voice as our limitations." Robin Guthrie
April 1986
4AD
CAD 602
32 min, 47 sec
Track listing
Lazy Calm
Fluffy Tufts
Throughout the Dark Months of April and May
Whales Tails
Oomingmak
Little Spacey
Feet-Like Fins
How to Bring a Blush to the Snow
The Thinner the Air
Available formats
Vinyl
Cassette
CD
Digital
Performers
Release notes
Produced by Cocteau Twins.
All titles written and performed by Robin Guthrie and Elizabeth Fraser.
Richard Thomas plays saxophone and tablas courtesy of Dif Juz.
Art direction and design by 23 Envelope.
Victorialand reached #10 on the UK albums chart.
An instrumental version of "Oomingmak" was released with the 1991 EPs and Singles Box Set.
"Lazy Calm" and "Whales Tails" have been performed live since their release.
"Oomingmak" was performed live with a new arrangement by Elizabeth Fraser during her Meltdown Festival solo performances in 2012.
An ambient remix of "Feet-Like Fins," by Mark Clifford, appears on the 1995 EP Otherness.
"Lazy Calm" and "The Thinner the Air" appear on the 2000 compilation Stars and Topsoil.
Victorialand was digitally remastered and re-released by 4AD in 2003.
In 2020, 4AD re-released Victorialand with remastered audio pressed to 140 gram vinyl and the original 23 Envelope artwork and photography.
The title takes its name from a land mass in Antarctica.
Listen and buy online
Videos
Live soundboard recording of "Whales Tails," recorded in Detroit, MI (1991).

Live performance of "Lazy Calm," recorded in London (1996).
Press
External links